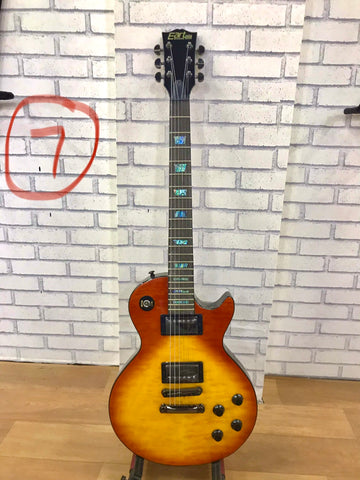 Carbonized Honduran mahogany guitar neck.

Paired carbonized Honduran mahogany body, maple tiger pattern veneer.

Indian Rosewood fingerboard,mixed radian (9.5-14). Frets Specifications: 22 fret, effective chord length 628mm. Stainless Steel Frets round head polished, not hurting your hands. Korean tuning knobs, turbo pitch 16:1.

America class57 closed pickup, potentiometer 500K, capacitor Sbi 223J, three-ring buckle output interface. Suitable for rock & roll, pop, blues,country, folk, punk & beyond.

EART Classic Electric Guitar with comfortable c-style neck profile, volume control, tone control and easy access aux output jack, perfect for beginners, intermediate and professional players. It's also a good choose as a gift for Valentine's Day, Christmas, graduation and etc.